Forex Trading Platform PRO
A powerful platform for Forex and Exchange markets. Successful trading starts with convenient and functional trading.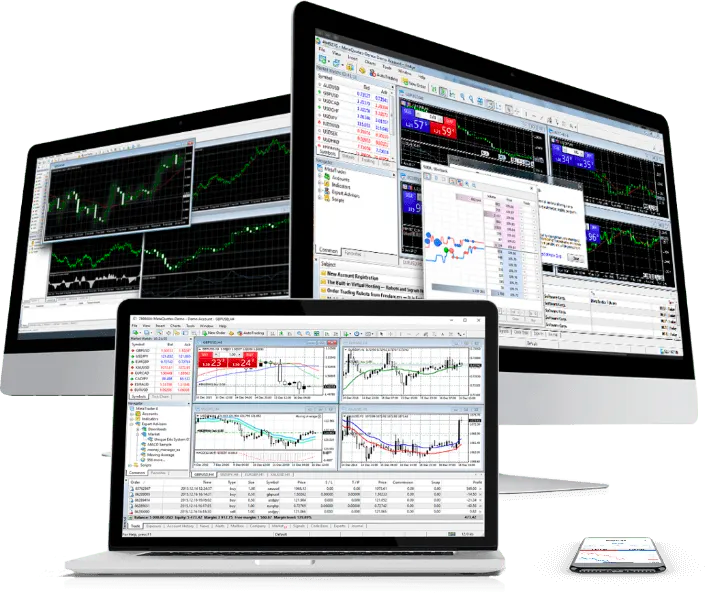 MetaTrader 5 is a multi-asset platform that allows trading Forex, stocks and futures. It offers superior tools for comprehensive price analysis, use of algorithmic trading applications (trading robots, Expert Advisor) and copy trading.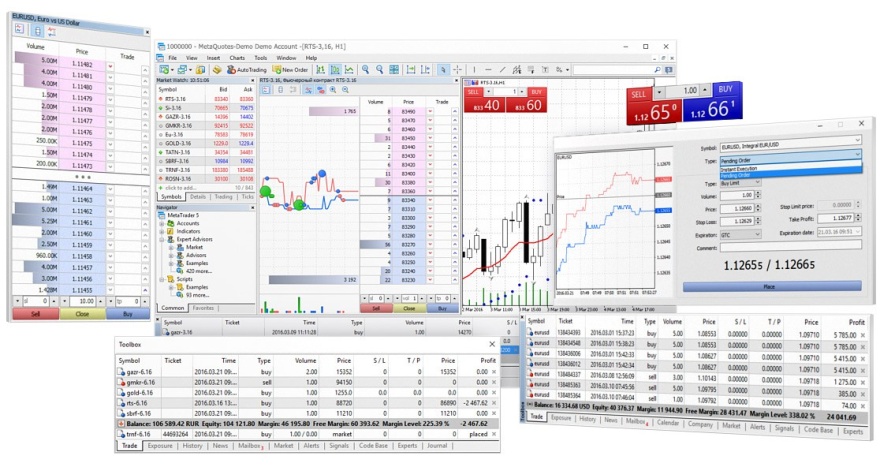 Delivers a powerful trading system
with the Market Depth and a system of separate accounting of orders and trades. It supports both order accounting systems: the traditional netting system and the hedging option system. Four order execution modes are available to meet various trading objectives: Instant, Request, Market and Exchange execution. The platform supports all types of trade orders, including market, pending and stop orders, as well as trailing stop.

With such a diversity of order types and available execution modes, traders can use any trading strategy for successful work on the financial markets.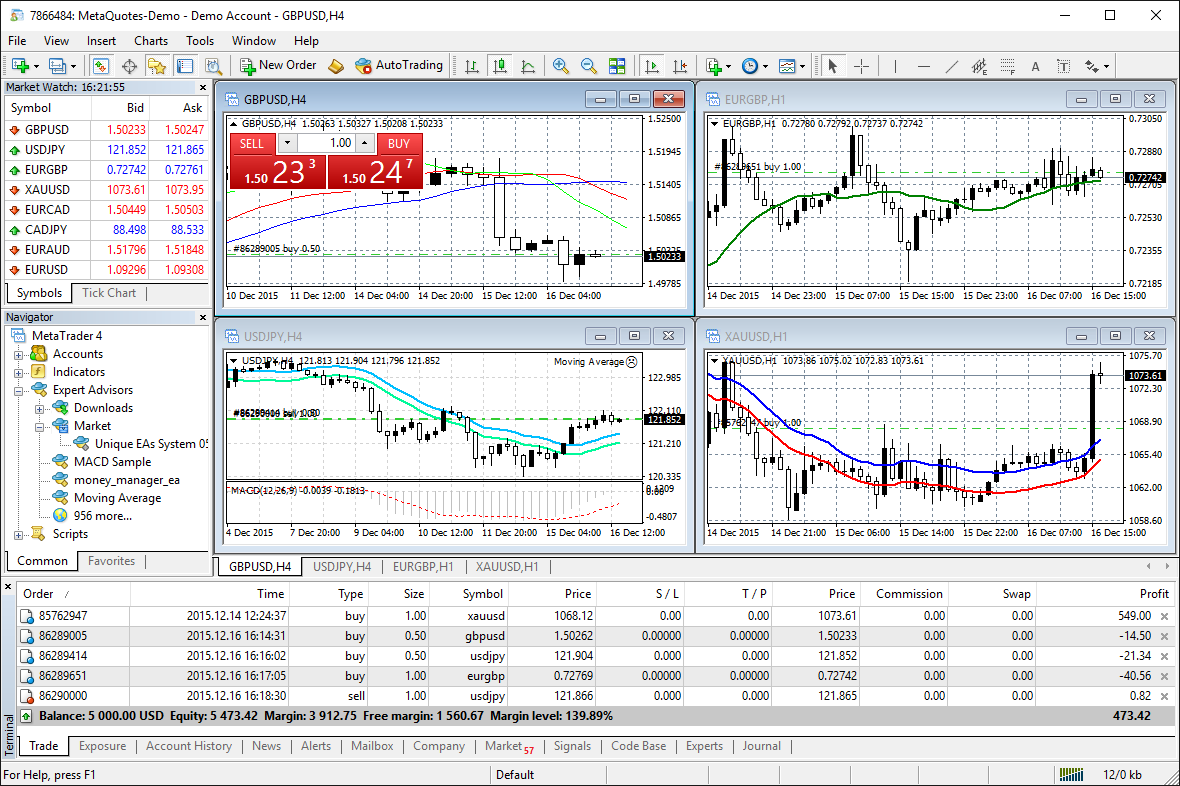 Analyze quotes of financial instruments using interactive charts and technical indicators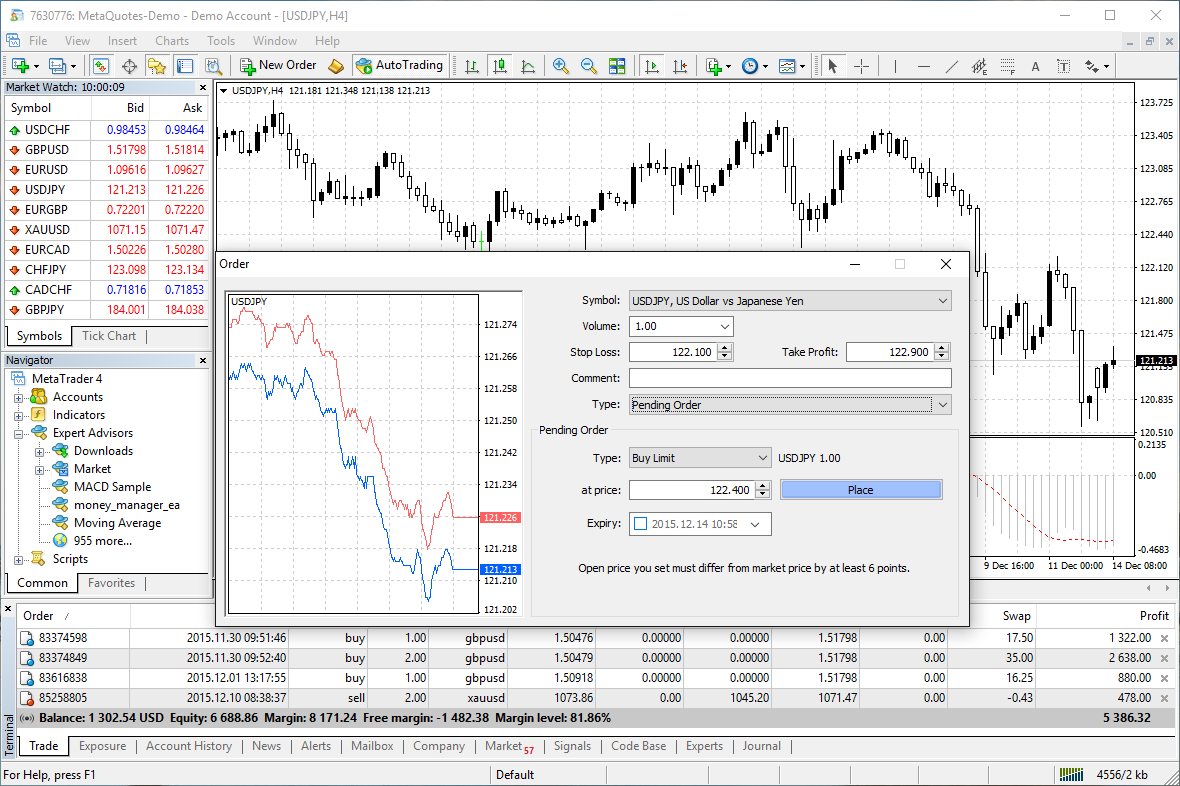 Flexible trading system and support for all order types allow you to implement any strategy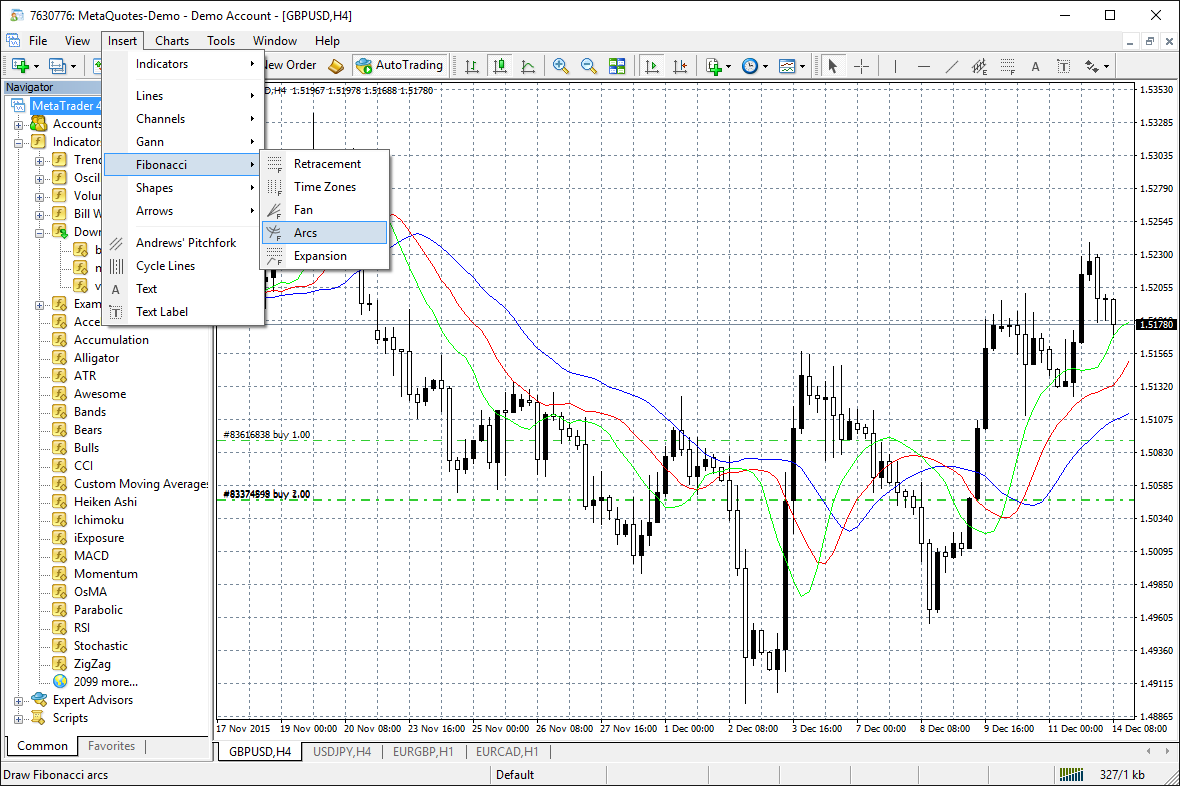 Examine currency quotes from various perspectives with more than 65 built-in technical indicators and analytical objects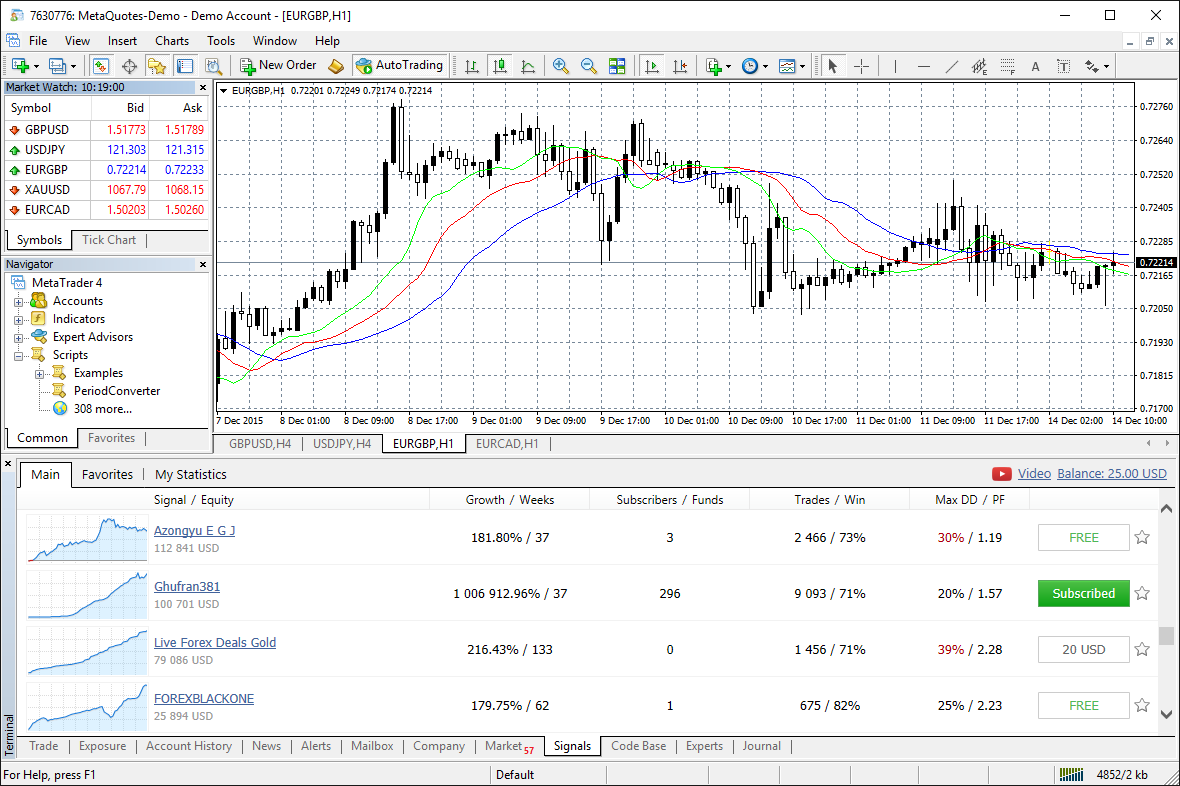 Copy deals of successful traders directly in the platform using the Trading Signals service (social trading)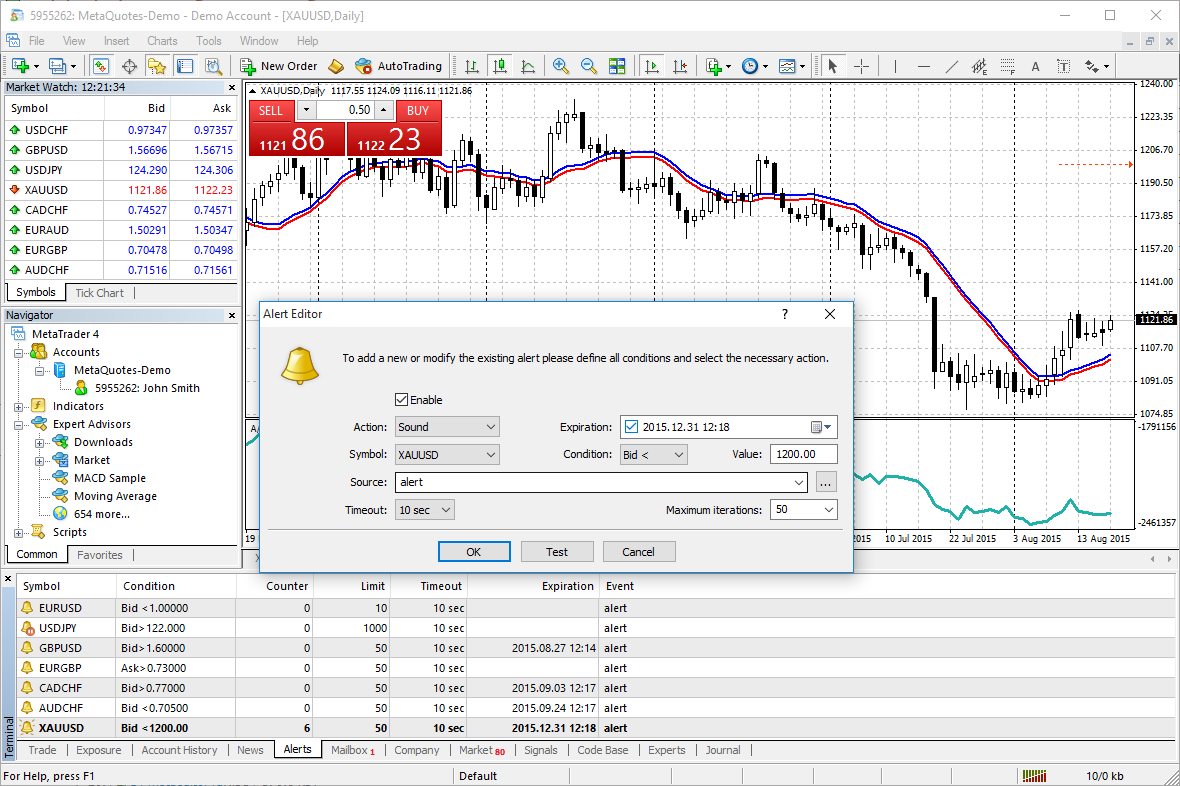 Trading alerts will notify you of favorable market conditions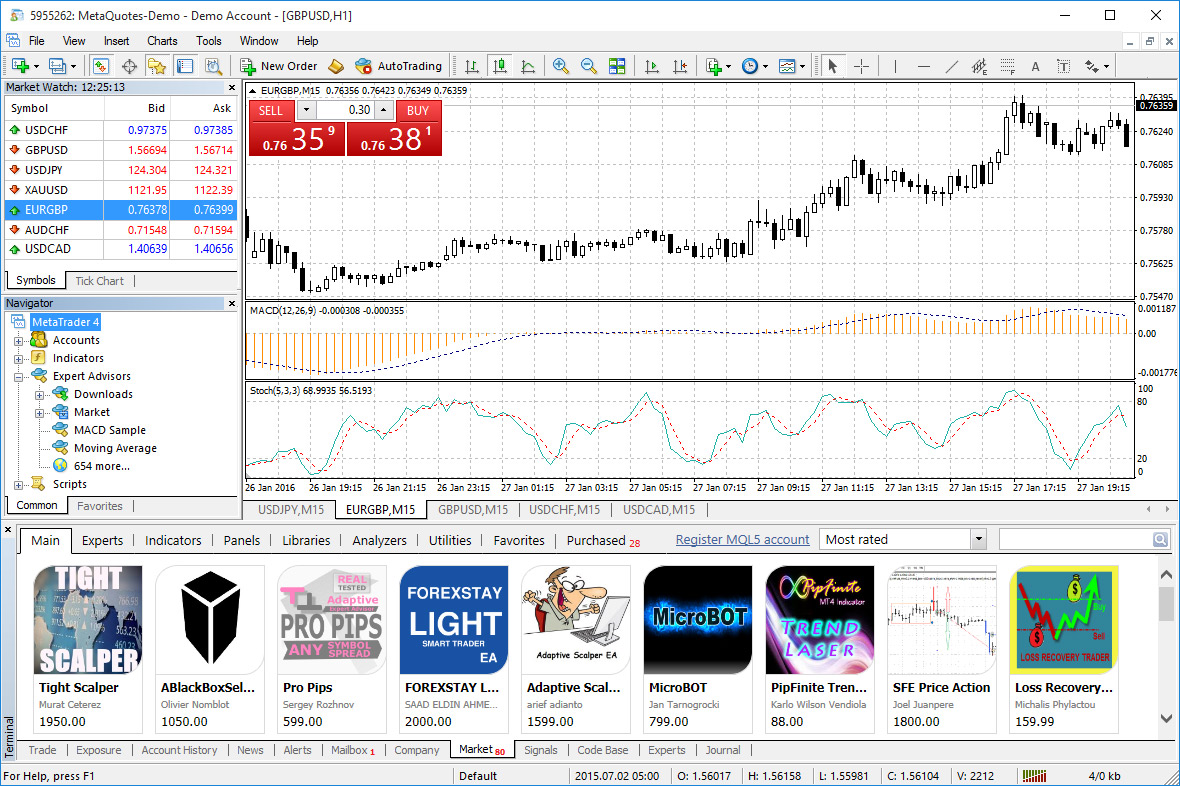 Visit the Market — the biggest online store of trading robots and technical indicators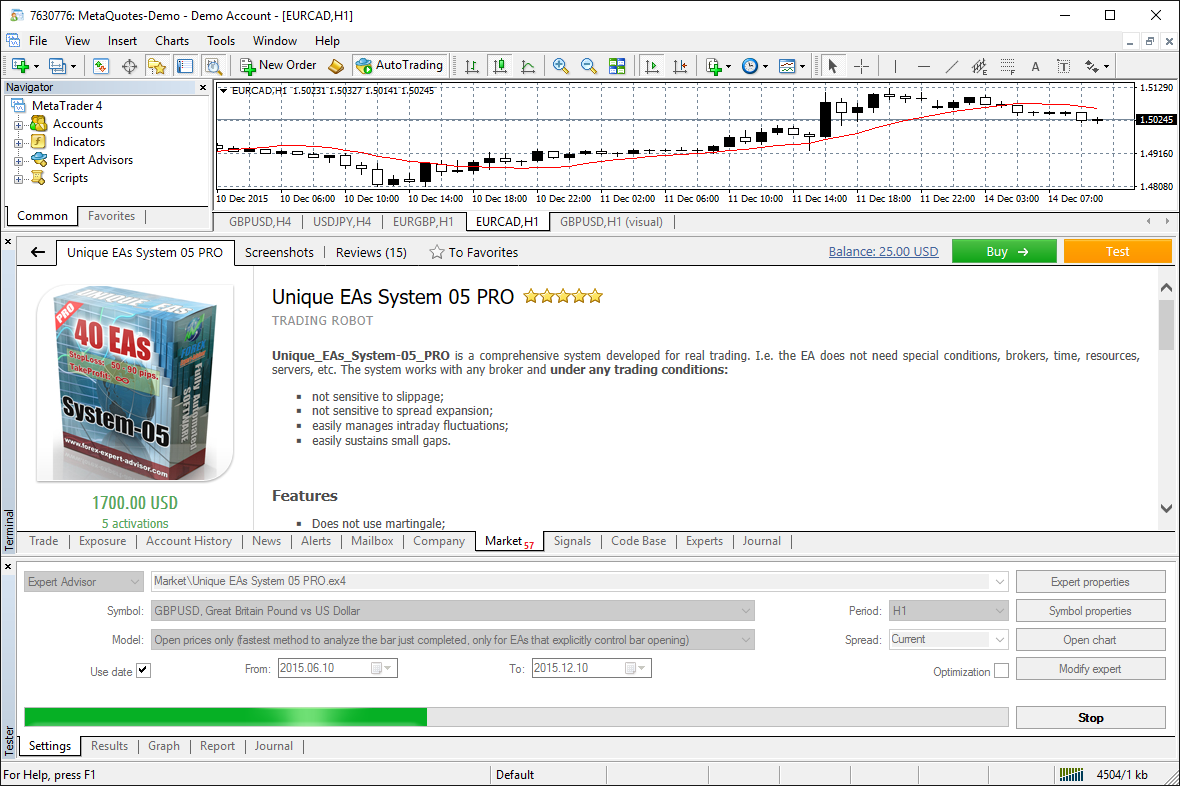 Test any trading robot in the Market before purchasing it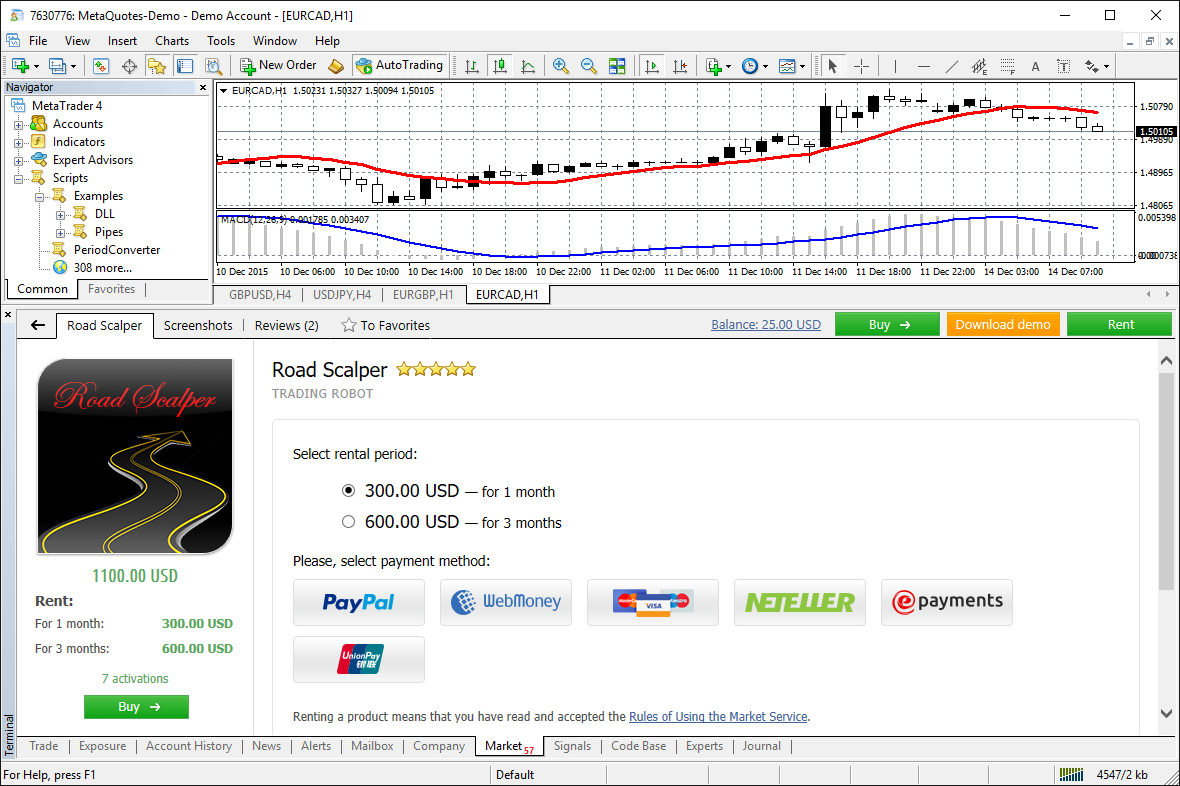 Purchase or rent a Market product the way you like
Read the product description in the Market before purchasing it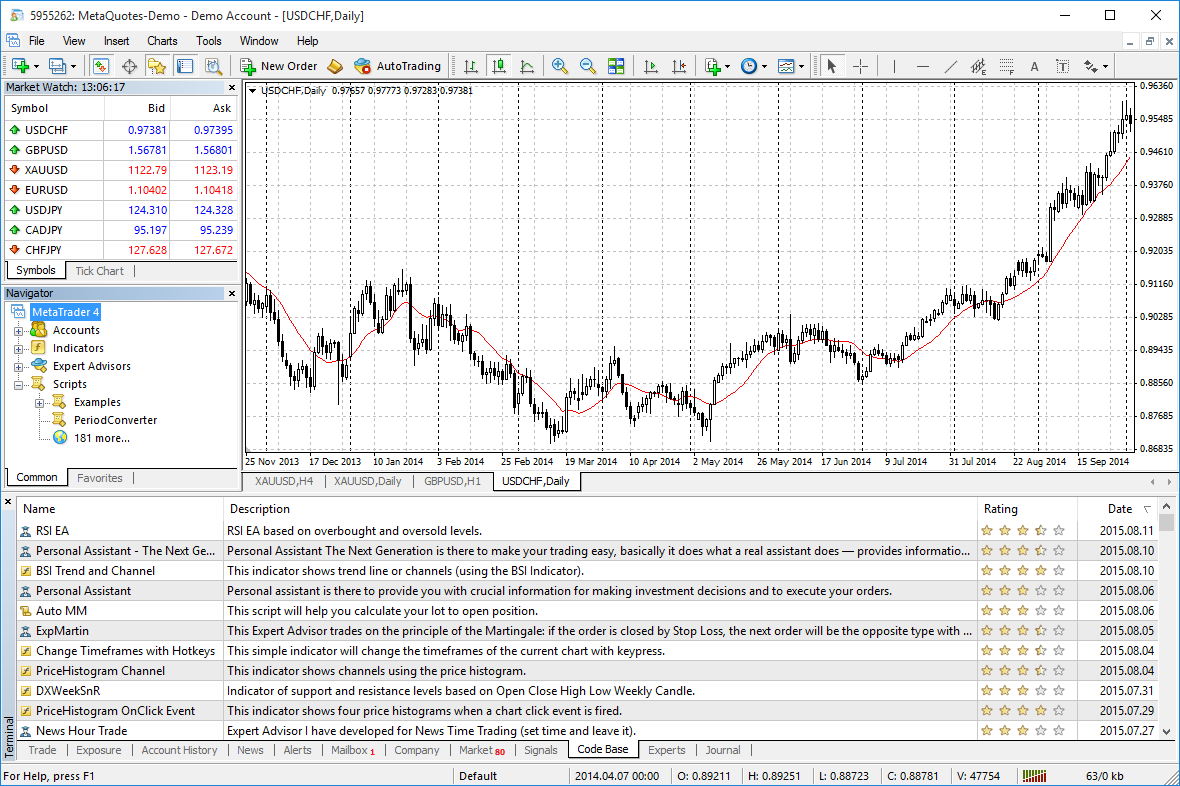 Thousands of free robots and indicators are published in the Code Base and ready to be downloaded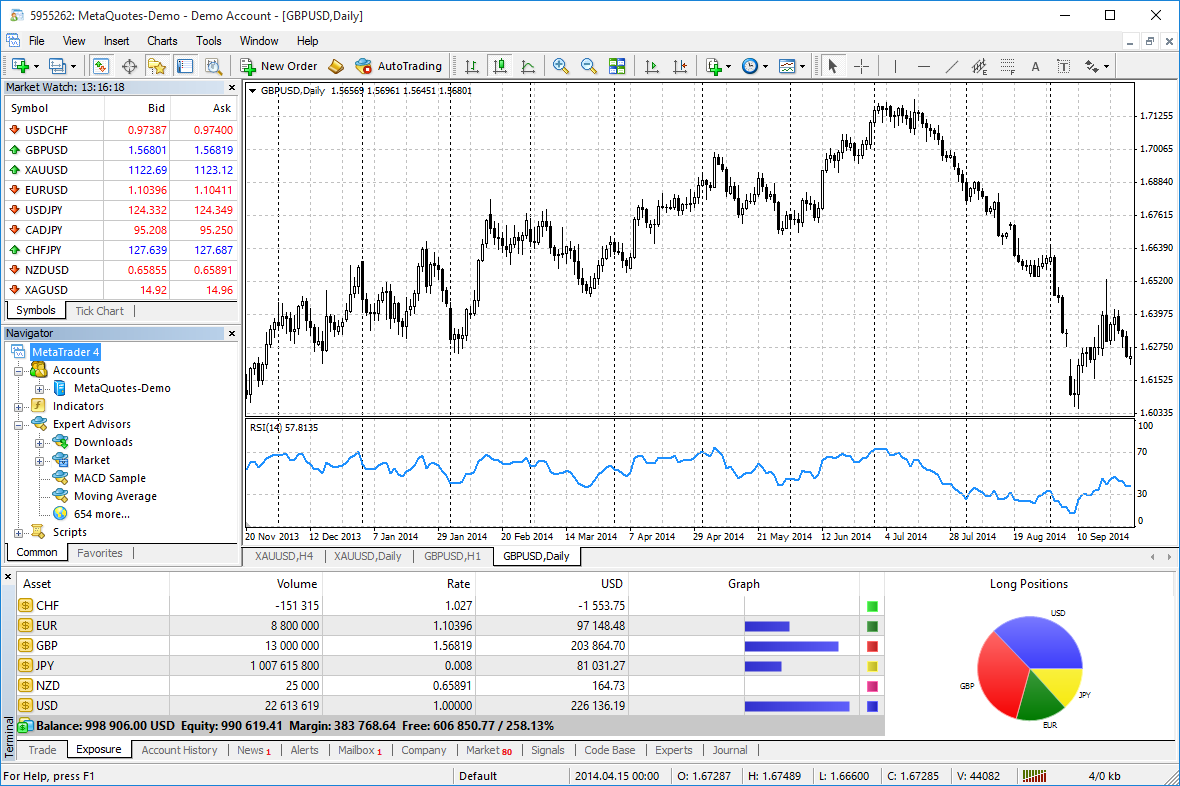 Maintain total control of your assets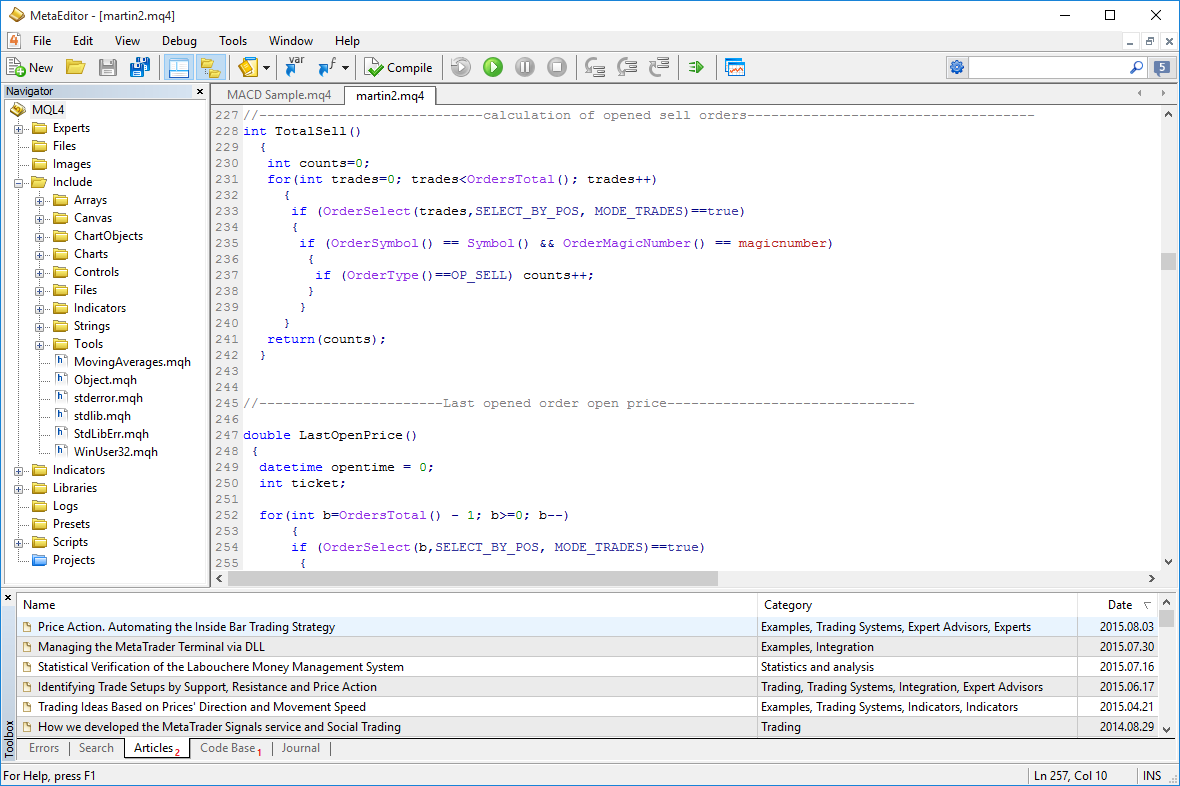 Trading robots and indicators are developed using the specialized MetaEditor tool
Customize the chart appearance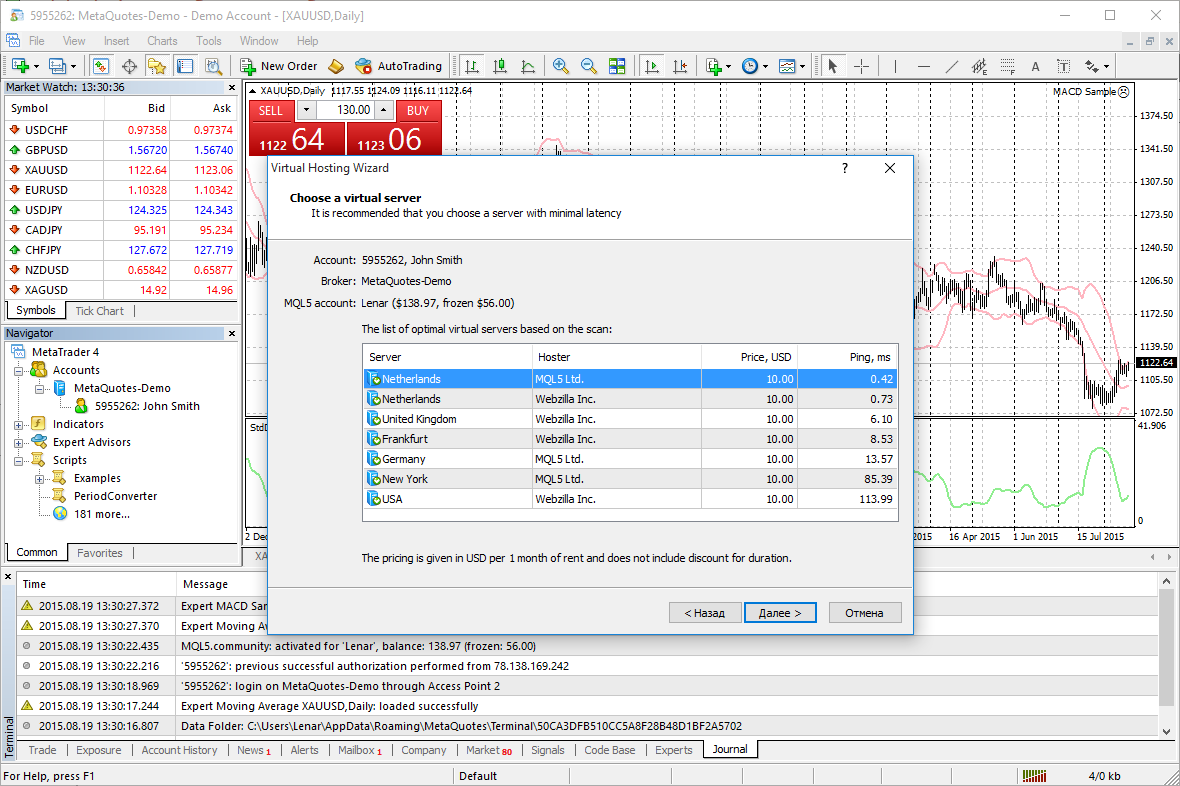 Order the virtual hosting at a reasonable price directly from the platform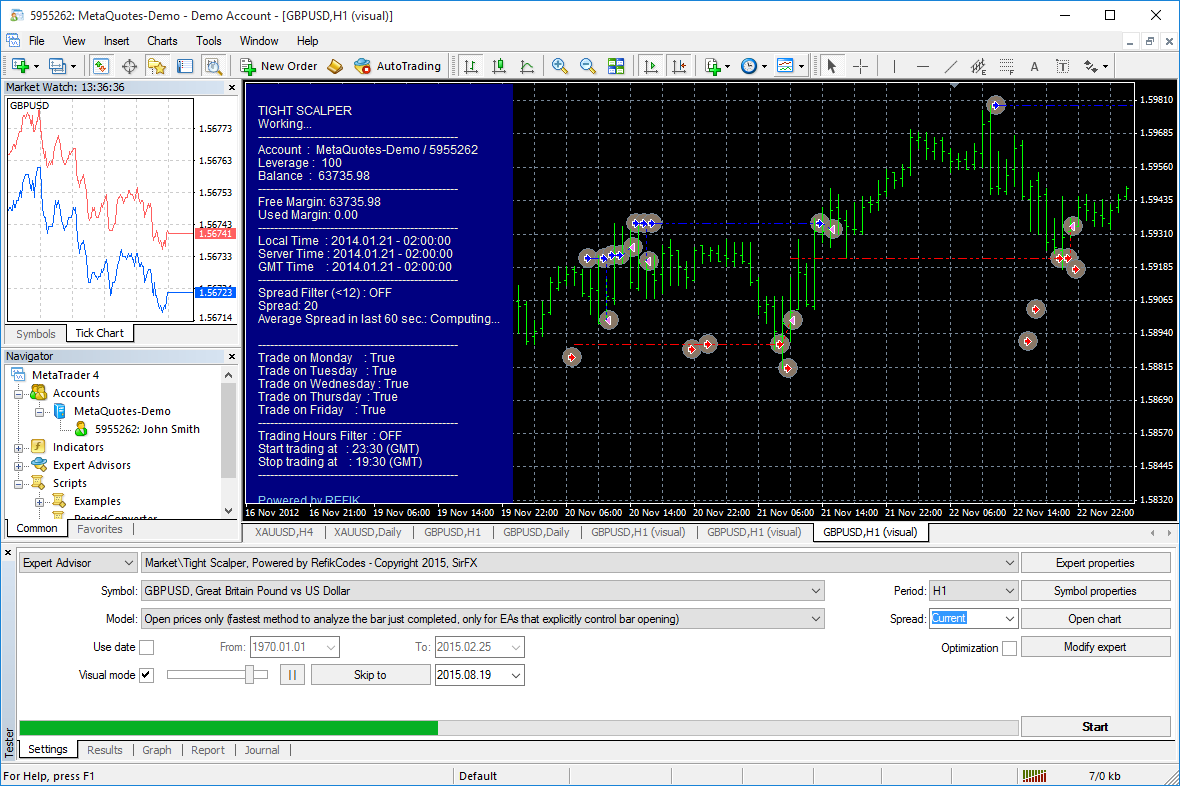 Test robots in visual mode to better understand their trading algorithms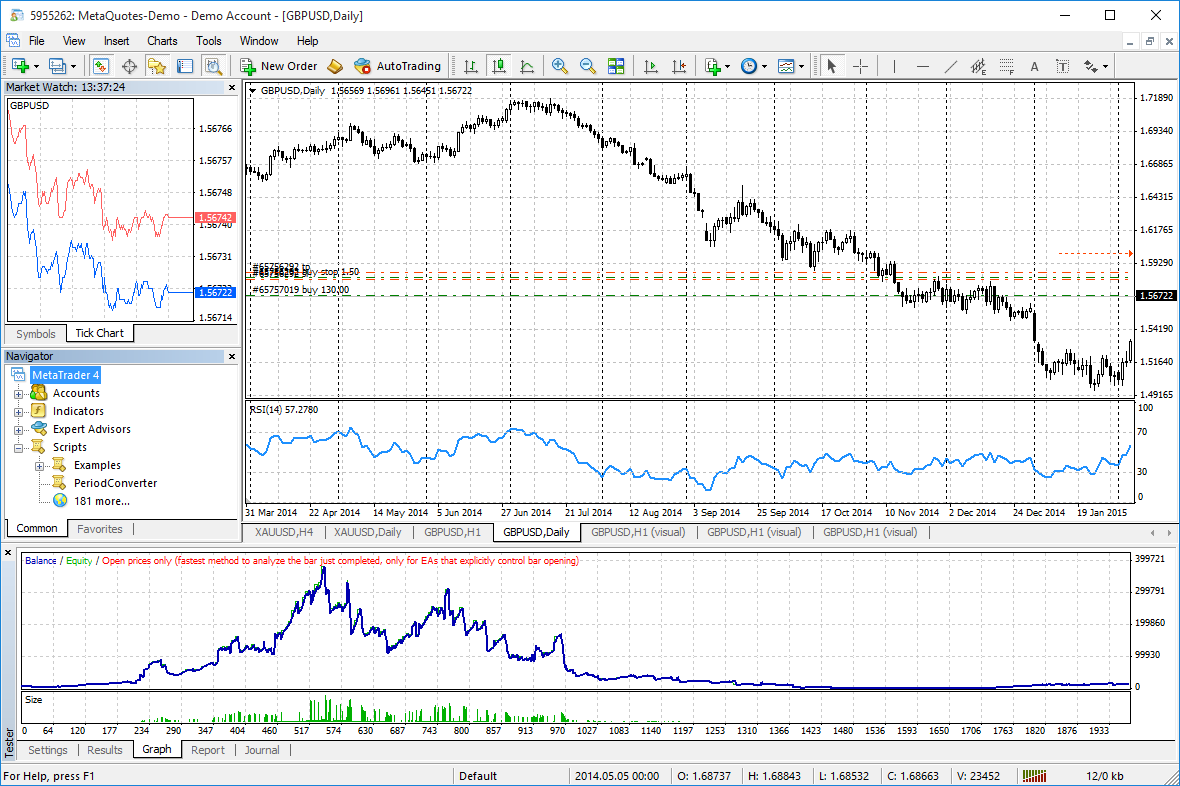 A trading robot test report will show you how good it is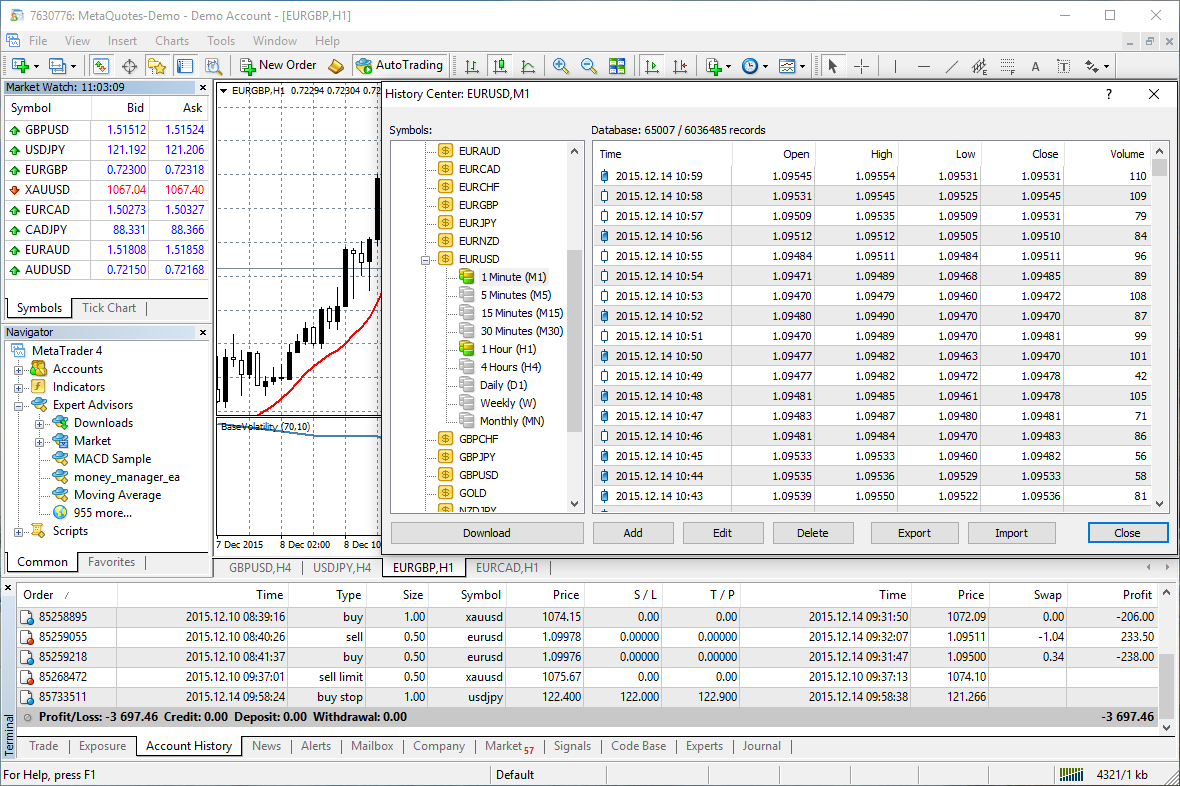 Browse through the quotes of any currency pair from one minute to one month in the History Center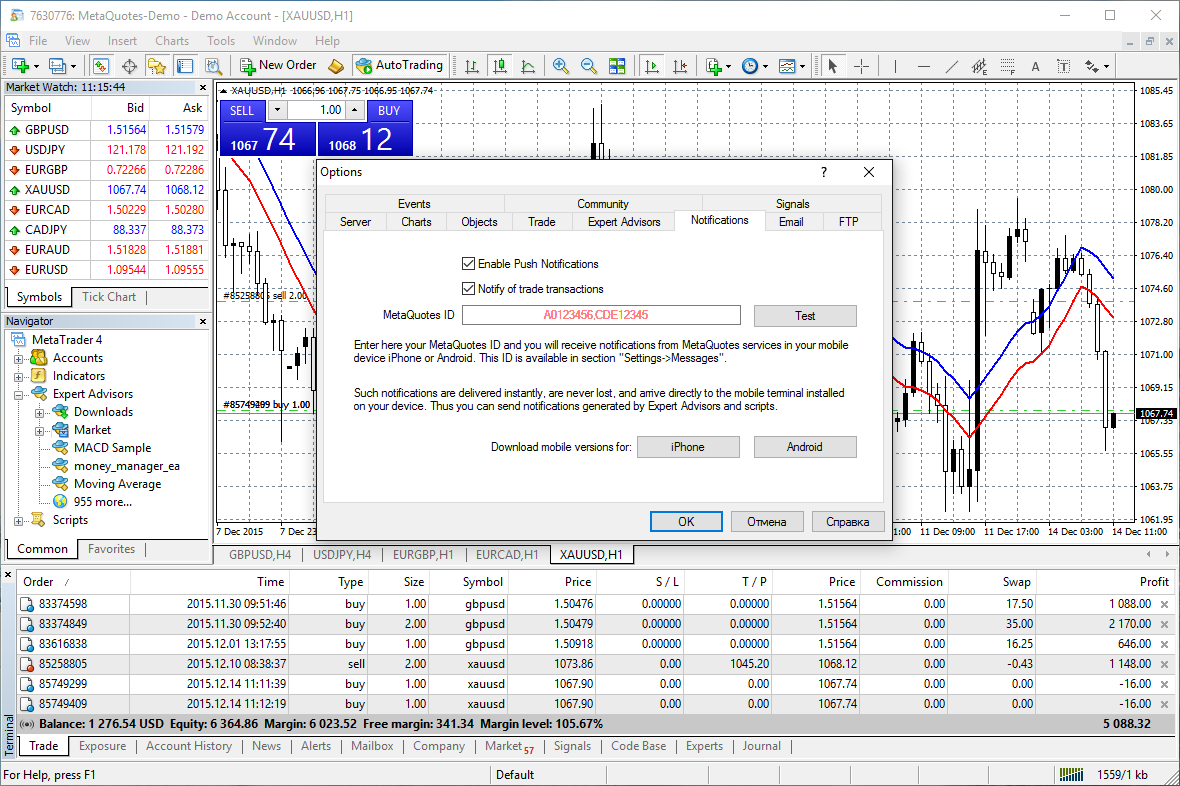 Your MetaTrader 4 desktop platform is integrated with the MetaTrader 4 mobile application for Android and iOS. Specify your MetaQuotes ID to receive push notifications from launched trading robots and scripts directly to your smartphone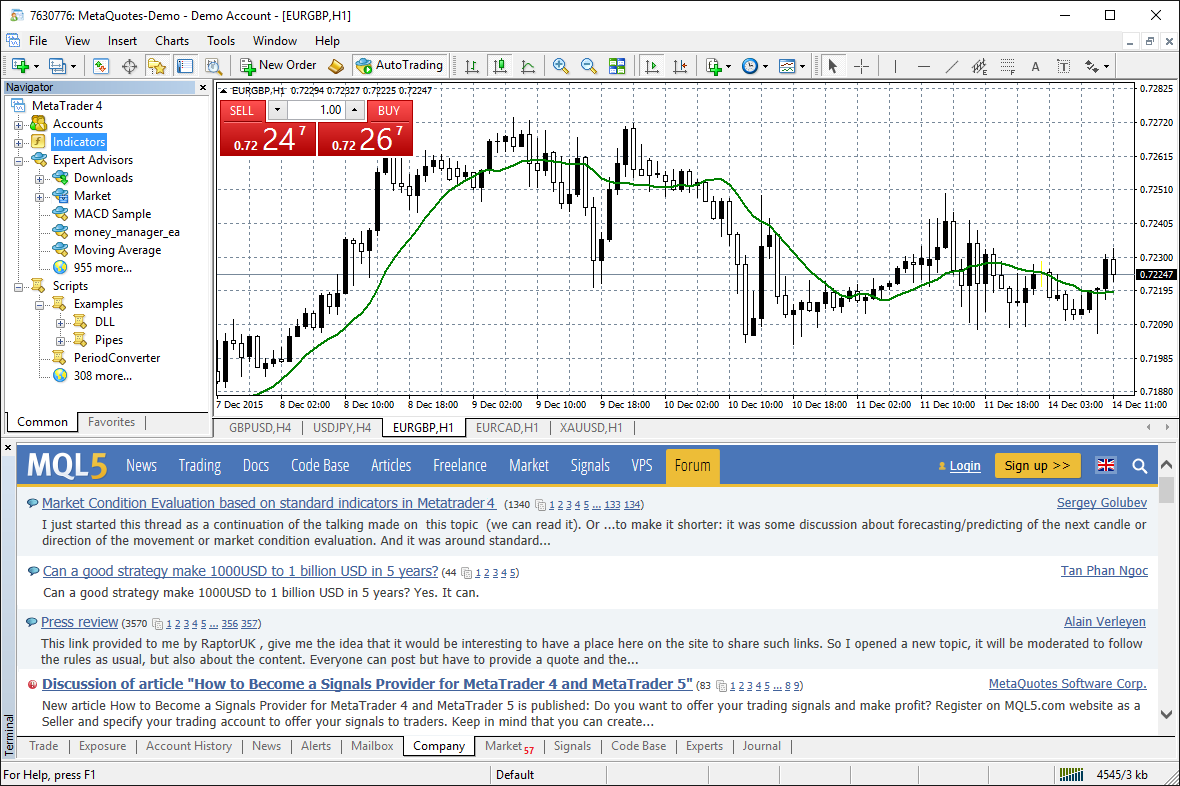 Join the largest community of traders directly via your platform!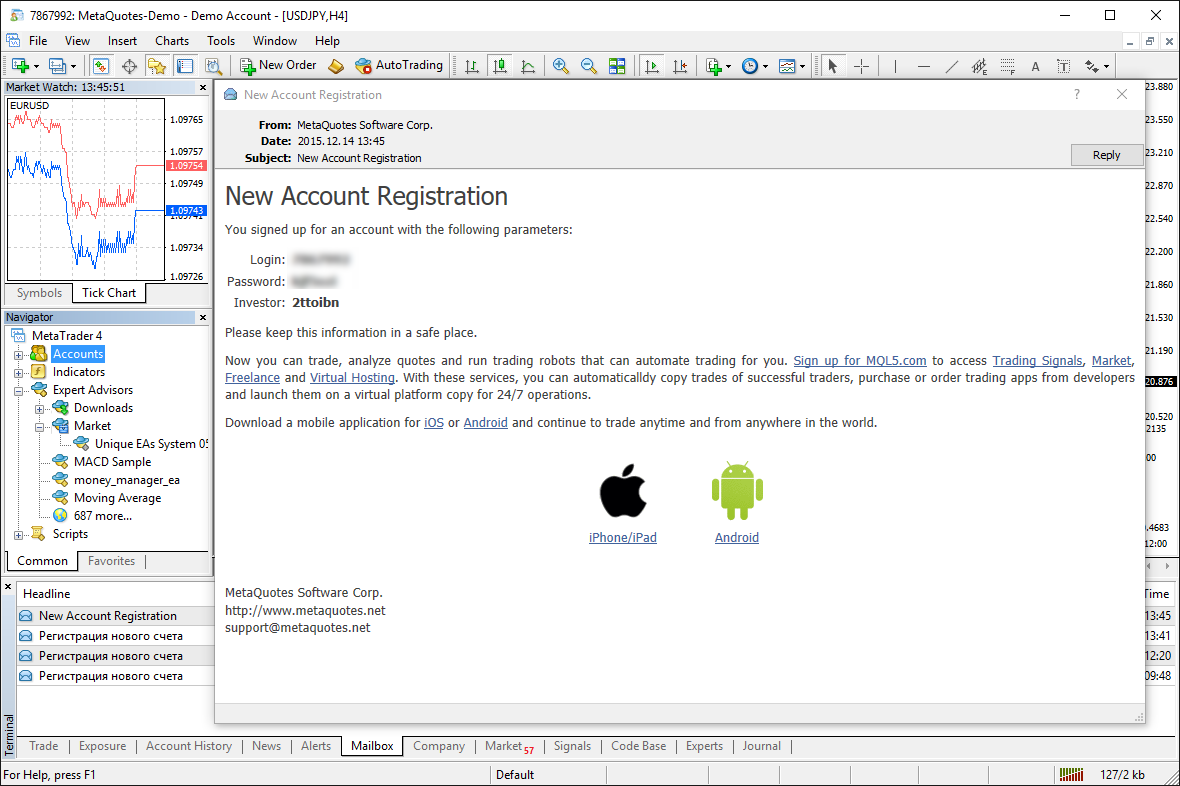 Receive useful information and hints from the MetaTrader 4 developers in Mailbox section
The MetaTrader 5 trading system
The platform represents the all-in-one concept and offers impressive analytical tools. It allows opening up to 100 charts of currency and stock quotes at a time. The 21 timeframes available enable comprehensive detailed analysis of all minor price movements. More than 80 technical indicators and analytical tools, including graphic objects, provide detailed analysis of quote dynamics.
Furthermore, analytical resources of the terminal are not limited to the built-in tools. Traders are welcome to choose between thousands of free of charge indicators from the Code Base, purchase or rent applications from the Market of more than 2500 ready-made algorithmic applications, as well as to order custom indicators from professional programmers through the Freelance service. With the high performance of the MQL5 programming language, you can create your own indicator with your own unique characteristics. All these features enhance the analytical capacity of your platform and your ability to achieve the most detailed and accurate technical analysis of quotes.
3 execution modes
2 market orders
4 pending orders
2 stop orders and a trailing stop
Fundamental analysis
Fundamental analysis is another tool that can be used to forecast the price dynamics of financial instruments. The aim of fundamental analysis is the constant monitoring of various open-source economic and industrial indicators. Original fundamental data is available straight from MetaTrader 5.
News reports from international news agencies are broadcast directly into the platform, providing you with the essential financial information. The economic calendar features the main macroeconomic indicators of different countries, allowing traders to analyze their impact on various financial instruments.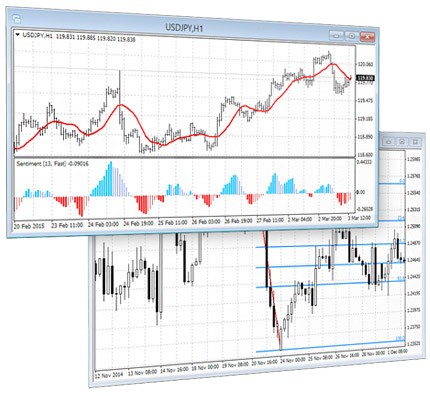 Stay tuned
and make more weighted trading decisions from the benefit of having access to financial news and economic calendar straight from your platform!
Interactive charts
9 timeframes
23 analytical objects
30 technical indicators
Trading signals and Copy Trading
No time for manual trading or analyzing the markets? That's not a problem: subscribe to a signal of a successful trader, and MetaTrader 5 will automatically reproduce all his trades on your account. Choose from hundreds of free and paid signals available for demo or live accounts with the preferred risk level and profitability. Subscribe to the selected signal provider in just a few clicks, and your platform will trade automatically for you. You may choose to monitor trading results or completely rely on the signal behavior.
You no longer need to trade by yourself
Instead, let your platform trade for you like a pro!

Thousands of providers
Thousands of trading strategies
Any trading conditions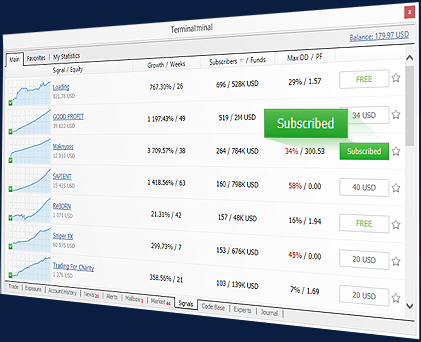 The MetaTrader Market
The built-in Market is the best place to find an Expert Advisor or a newest technical indicator.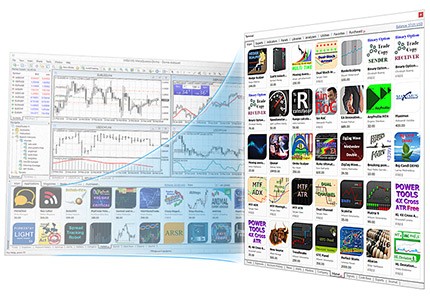 The purchase is simple, transparent and secure
Buy any of the hundreds of trading robots or indicators and launch them without leaving the platform.

the widest selection of trading applications in the world
1 700+ trading robots and 2 100+ technical indicators
free and commercial products
Algorithmic trading
Almost any trading strategy can be formalized and implemented as an Expert Advisor, so that it automatically does all the work for you. A trading robot can control both trading and analytics freeing you from the routine market analysis.
MetaTrader 5 provides the full-fledged environment for the development, testing and optimizing algorithmic/automated trading programs.
You can use your own application in trading, post it in the free code library or sell in the Market.
The MQL5 language of trading strategies
MetaEditor
Strategy tester
Library of free trading robots
Mobile trading
Smartphones and tablets are indispensable in trading when you are away from your computer.
Use the mobile versions of MetaTrader 5 on your iPhone/iPad and Android devices to trade in the financial markets.
You will certainly appreciate the functionality of the mobile trading platforms that include the full support for the trading functions, broad analytical capabilities with technical indicators and other graphical objects.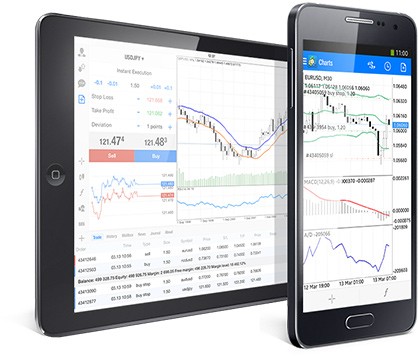 Available from anywhere in the world 24 hours a day
Support for iOS and Android OS
Full set of trading orders
Analytics and technical indicators
Alerts and financial news
The latest financial news allows you to prepare for unexpected price movements and make the right trading decisions.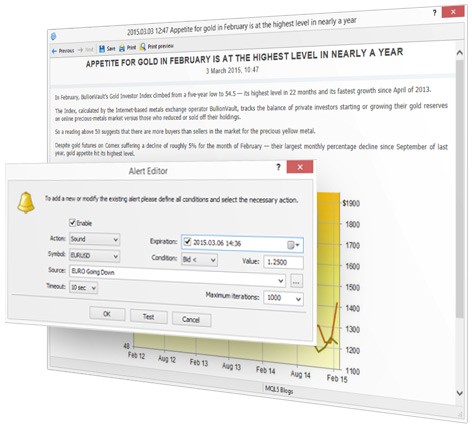 Alerts inform you about certain events
Current financial information
Timely notification
Different market conditions
Trade like a pro
A powerful platform for Forex and Exchange markets. Successful trading starts with convenient and functional trading.